I am beginning to wonder if my Autumn project will be finished this Autumn - I must get it done ! The trouble is that I have started some other projects that have to be done by a certain date - I should not be stressed, craft is for fun!
Another item that is required for the project are mushrooms/toadstools and below are the patterns I have come up with from various talented crafters.
This great pattern from Annaboo's House is available
here
and I just love all the different colours.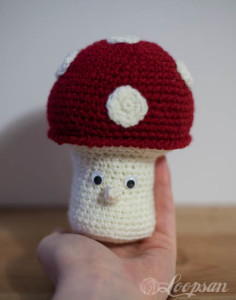 Another great in the more traditional colours from Loopsan and the pattern is
here
.
Petite mushrooms from Amiamour and the pattern is
here.
A great varigated colour mushroom from Diyods and the pattern is
here
.
Anyway I had better get mushrooming.